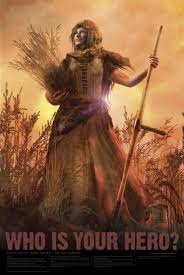 In 1876, Brigham Young asked Emmeline B. Wells to organize, with the women, a wheat storage program.  Emmeline's husband, Daniel H. Wells, confessed the men had tried for years. Brigham Young said, "they have continued to let the grain go; now we want to see if the sisters will be more successful."
Pres. John Taylor said, "We brethren…should assist our "female brethren" in the work."  Husbands were asked to help the women in this wheat endeavor, but it was to be the women's project and responsibility.  Sarah Kimball stood and made this statement, "We have the faith, nerve, and land to build upon."
At first the women gleaned wheat from existing wheat fields.  Soon, with Relief Society collections, they were able to buy their own fields.  Relief Societies, up and down the territory of Utah, were buying and growing their own wheat fields and building their own granaries.  Women would watch the wheat market and buy when prices were low.  Hints combating weevil, and when to buy or sell, were discussed at various Relief Society meetings.
The women were solely responsible for the wheat.  Bishops received a letter from the First Presidency informing them they had no rights in dealing with wheat matters.  The women had sole discretionary use of it and their purpose was to care for the poor and those in need.  The women donated their wheat to survivors of the 1906 San Francisco earthquake, WW I and II, as well as to many poor and needy.  Wheat money was also used to kick-start the maternity hospitals, another project the women were creating in the valley.
The Wheat Fund became a test, of sorts, for the Priesthood and Relief Society, in learning to work with one another as co-representatives of the church.  It was unusual for women to be in charge of anything in the early 1900's. The US Government logically went to the Brethren to ask help for the destitute in Europe after the first World War.  Arrangements were made without consent of the women for purchase. The Brethren would apologize for their mistake and make amends.
The wheat fund program lasted for one hundred years. In 1978, the money was incorporated into the general church welfare fund when the Brethren wanted to correlate all church departments. Sis. Barbara Smith turned over 226,291 bushels of Relief Society wheat, worth $1,651,157, as well as assets amounting to three-quarters of a million dollars.
You may have wondered why wheat stalks are a common motif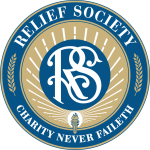 surrounding the Relief Society Building, and our motto. The wheat project was the longest running (100 years) and most lucrative project ever run by Relief Society sisters. Now you know.
I loved reading about how the women would get together in their wards to make decisions about building, harvesting and securing their wheat. The women would get together as stakes to collect money for granaries or fields. As women of the church, the General Relief Society would gather the women together for counsel as they made decisions on how to conduct business with their very successful enterprise. This is what women do best:  Center their sites, lay out the
battle plan, and complete the project at hand.
Derr, Cannon, Beecher, Women of Covenant, Deseret Book Company, 1992.