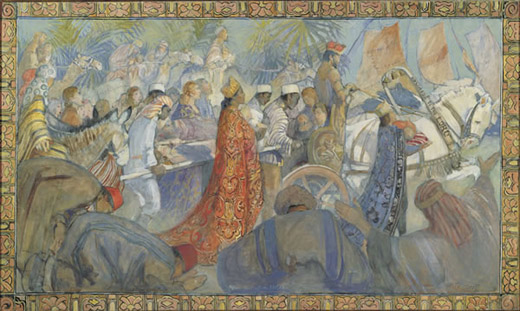 Minerva Bernetta Kohlhepp was born Aug. 28, 1888 in North Ogden, Utah, the second of ten children.  Her mother's father was one of Brigham Young's bodyguards.  Her father was disowned by his family when he joined the Church.  Minerva was raised in a religious family, and an artistic home.  Since age four, she thought of herself as an artist.
Growing up on a ranch, in Idaho, Minerva was taught all the ways of a cowboy.  She graduated from school at age sixteen ready to attend art school in Chicago.  She was the first woman, set apart as an LDS Church missionary, sent back east for art lessons.  She went home periodically where she was courted by a cowboy named Herman Teichert.  Art was all consuming, so when she received a scholarship to study in New York City, she told him to marry someone else.
While in New York, she supported herself by doing just about anything her background, and personality, prepared her for:  She sketched cadavers for medical schools, illustrated children's books, painted portraits, and performed rope tricks and Indian dances on the New York stage.  She was known for the headband she wore throughout her life.  The style must have come from her Indian act.
Her artistic techniques were developed as she followed the instruction of her teacher and mentor, Robert Henri.  Although not LDS himself, he was the one who told her to go home and paint the history of the Mormon people.  It was a calling she took to heart for the rest of her life; focusing her art on motivating the viewer to greater faith in the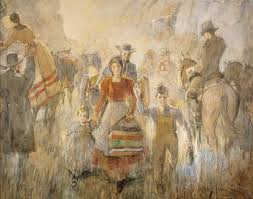 gospel, and especially greater appreciation for the pioneer heritage.
Minerva went home, married Herman Teichert, helped manage their ranch in Wyoming, had five children, and painted.  She would tack up a stretch of canvas on her living room wall and paint all evening as the children slept.  Her version of the Mormon story was larger than life, and her paintings reflected that, in size, as well as expanse.  Using neighbors as models, her message always involved the human experience, especially from the perspective of a woman.
In many of her paintings you will find pattern in the clothing.  This detail makes her paintings rich and unique.  She would often use a touch of red somewhere to make everything pop.  A story was told with each piece, painted just enough where the all important message was clearly visible, leaving the edges unfinished, sometimes merely sketched in.
She would often interrupt her work to create small pieces that she would give away for funerals or weddings.  Can you imagine discovering her artwork buried in a musty old attic?
Herman did not become a member of the Church until after their fifth child was born.  He was almost immediately called into a bishopric where he served for twenty years.  During all her married years, Minerva was devoted to the gospel.  One of her spiritual gifts was receiving promptings and guidance through dreams, which she reverently obeyed.  Once, when given an opportunity to study in France, after her marriage, she dreamed of a little girl all in pink.  She decided to stay home, and shortly after became pregnant with her first daughter.  She would later paint her daughter dressed in pink as she saw her in the dream.
Not only well versed in the gospel, she was a political activist, often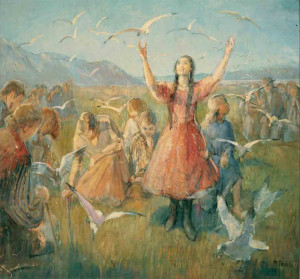 writing caustic letters to congressmen about water rights, Indian rights, and Social Security (she thought it was unconstitutional).
Painting well into her seventies, she was forced to stop when she fell and broke her hip.  She died in Provo, in 1976.
Her grandniece said of her, "Aunt Minerva was feisty, spunky, a hundred years before her time, especially about women's lib and the roles women saw themselves in and what women were capable of doing."
Minerva wrote in her diary, in 1961, "Relief Society — and I'm going. I talk too much — not about people but the lessons. Too bad I wasted ten years of talk in Fort Hall Bottoms. Sometimes I'd go for months and never see a woman. I don't know women's language very well, so I talk politics and religion. They don't talk art or chicken talk so I'd better try to get in on this Relief Society deal more often. See you later."
Because of her distance from Church headquarters, she remained unknown for a long time and received many rejections of her work.  She painted forty pictures depicting the Book of Mormon, but they were all rejected by the Church (later purchased by BYU).  Her sketches were rejected for the Idaho Falls Temple, the Swiss Temple, and the Los Angeles Temple.  She never gave up though, and her work was finally accepted for the Manti Temple.  She was thrilled to be able to paint those murals in the beautiful setting of that temple.
The amazing thing about Minerva is that she painted at her secluded ranch in Wyoming for about forty-five years without the approval, involvement, or support of other Mormon artists.  And now, in spite of her isolation, her work is the most widely reproduced, accepted, and beloved work, although most people are unfamiliar with this fascinating female artist.
"Minerva's Calling", by Marian Ashby Johnson, Dialogue Magazine, Mar 1, 1988
"Minerva Teichert", Ensign, April 1989