Most everyone loves Lasagna. If you love cream and cheese, you may want to try this.
Meat Sauce
1 lb. pork sausage
2 Tbs. dried onions
2 Tbs. sugar
1 Tb parsley
1 Tb basil
2 tsp garlic powder
2 tsp sage
2 tsp thyme
Salt and Pepper to taste
Cook beef and sausage until cooked through. Add herbs and spices. Stir and let cook 5 minutes. Stir tomatoes and paste into mixture and heat through until bubbly.
Béchamel Sauce
 1 cube butter
1 small onion, diced
1/2 cup flour
1 cup cream
1 cup milk
1 cup Mozzarella cheese
Salt and Pepper
Make a roux by melting the butter. Add diced onion and cook until soft. Add flour until mixture is very thick. Whisk in cream and milk until smooth. Add shredded cheese and salt and pepper to taste.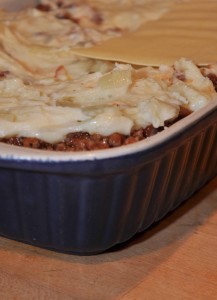 In a 9×13 casserole dish, spoon a little meat sauce over the bottom of the dish. Layer lasagna noodles over the top. Spread more meat sauce over the noodles, then some Béchamel sauce. Repeat layers until you run out, at least two more times. End with meat sauce on top. Cook in the oven at 350 for 30 minutes. Top lasagna with shredded Mozzarella, or Italian cheeses, and let melt in the heat of the (turned off) oven.