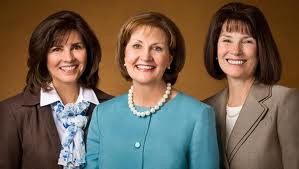 For those who were unable to attend the Auxiliary Training in Salt Lake City, you'll be thrilled to know that you can view the session online at lds.org, as if you were there. They gave us a lot of information, a lot of things to think about, and the spirit flowed.
They will continue along the threesome of Faith, Family, and Service started by Sis. Beck. But they have added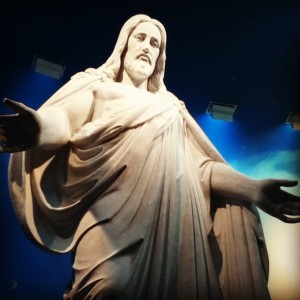 another threesome: Atonement, Covenants, and Unity. The focus will be on becoming spiritually strong, so we can strengthen our families, and other sisters. They introduced these new ideas:
Our homes are the new MTC—Parents can prepare their children to be the missionaries the Lord needs to fulfill His work. Teach children their responsibility to bear their testimonies to others.
Our homes are the new Family History Centers—Computer literate children can search online, index names, and organize family pedigrees. Teach children their responsibility to save their families.
Our homes should produce compassionate children who are aware of the needs of others.
It is important that we each understand the gospel, receive personal revelation, and accept and receive all of the ordinances, so we can minister and administer to one another. Having a strong testimony will allow us to reach out to the One and bring them to the Savior. This starts in our homes and stretches out over all of our sisters throughout the world.
They emphasized that through the Priesthood, women have power and authority to save souls and build the kingdom of God. We are vital to the work of the Lord. We have access to all the blessings of priesthood power through the ordinances we take upon us. We can receive all of the spiritual gifts necessary to fulfill our callings of influence. We are Under-shepherds, who work alongside the Lord to rescue His children.
We must know who we are and where we are going. Through prayer and scripture study, we can be strong. But we can access Heavenly power through regular temple attendance, and fasting often.
As children, we learn that we are "A Child of God…[who will] live with Him some day".
As Young Women, we learn that "We are Daughters of a Heavenly Father…[who will] enjoy the blessings of exaltation."
As Daughters in the Kingdom, we learn that "We are beloved spirit daughters of God, and our lives have meaning, purpose, and direction…[who will] rejoice in the blessings of the temple, understand our divine destiny, and strive for exaltation."
The Church now has many resources for us to use that can help us grow spiritually, to help one another, and to help our families. They are encouraging us to use the many resources they have on-line. They urge us to keep reading, and using, Daughters in My Kingdom. Sis. Burton made an interesting suggestion. She color-codes the various principles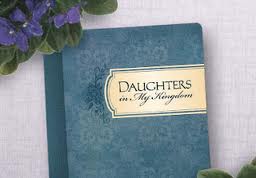 mentioned in the book. For example, everything on the subject of Priesthood is in one color, while everything about the work of Salvation is in another. You may like to color-code the gospel principles you discover in a way that will help you remember, live, and teach in a better way.
Daughters in My Kingdom is an inspired book that will help us see the work of women. Through small and simple means we can do great things that can influence for good those who are searching for truth. One example is that men, who abuse women, and those who struggle with pornography, have been encouraged to read Daughters in My Kingdom as an example of how women have been treated by the Savior. The Lord has always treated His daughters with confidence, honor, and love.
As Covenant Daughters we have the responsibility to:
Whether we are leaders, mothers, old, young, or middle-aged, or even serving in another auxiliary, we, as the Relief Society of The Church of Jesus Christ of Latter-day Saints need to step up and move forward. The Church's momentum is growing; the Lord is hastening His work; we don't want to be left behind. May we accept and follow the inspired influence of our new Relief Society General Presidency.