The session spoke of standing in the light. It's impossible to justify away these words from our living prophets, spoken to us almost 45 years ago. Can I just express my gratitude in their divine fore-warnings? We are foolish not to listen more carefully today.
Harold B. Lee was president of the Quorum of the Twelve at this time when he said:
"Prior to [Christ's] coming there would be false Christs and false prophets who would show great signs and wonders in order to deceive the faithful who are looking forward to that glorious day when the Master will return again to the earth.

"When an earthquake strikes, every person would be taken as he is then living—if at a movie, or a tavern, or in a drunken stupor, or whatever. But the true servants of God, who would be doing their duty, would be protected and preserved, if they would do as the Lord has counseled: to "stand ye in holy places, and be not moved," when these days should come. (D&C 87:8)

"So we are saying to our Church members in every land, everywhere, stand in your places."
According to him, the best place to stand in the light is to "have your family prayers, keep your home ties strong, and let love abound therein. …Teach the gospel of Jesus Christ with power and authority and continue to bear witness of the divine mission of our Lord and Master, Jesus Christ."
Mark E. Petersen continued in the same vein, speaking on honesty: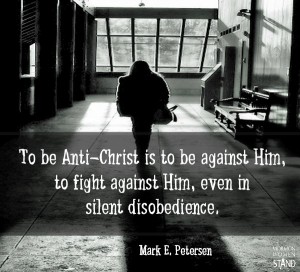 "Dishonesty is directly related to selfishness, which is its origin and source. Selfishness is at the root of nearly all the disorders that afflict us, and man's inhumanity to man continues to make countless thousands mourn. … To resort to dishonest practices is to apostatize from the Christian way of life. Apostasy from Christ becomes anti-Christ, and who among us can afford that? To be anti-Christ is to be against him, to fight against him, even in silent disobedience."
Marion G. Romney spoke on the light of the Restoration coming into the world:
"My witness to you is that our beloved Savior, Jesus Christ, while still in mortality, foresaw and foretold the circumstances in which we find ourselves today. … That 'light' spoken of broke forth in the spring of 1820 when the Father and the Son appeared to the boy prophet, Joseph Smith. … Pondering this analysis of the sad plight of our society, one comes to the conclusion that the predicament in which we find ourselves today has not come about for want of an adequate guide, but rather for want of a listening ear."
Theodore M. Burton finished the session with his talk.
"Churches in many areas are becoming centers of political activism. Ministers and priests are leading protest marches for political causes. … As a result, they are seeking to reform their churches. Great changes in doctrine and church procedures are being proposed, and some of these changes have actually been put into practice."
What he says next points directly to what has happened in our recent news: "It appears to me that men are trying to speak for God instead of letting God speak for himself. … God's way is the way to solve our political, moral, ethical, even our financial problems."
In addition, he said something that I had never thought about before:
"This restoration, foretold in advance, began so quietly and so un-ostentatiously that the world was not even aware that it happened. It came as quietly and unobtrusively as "a thief in the night." (1 Thes. 5:2.)
We often talk about the Second Coming still happening in our future, but the reality is that it has been happening since the heavens opened at the time of Joseph Smith's first prayer. And no one knew! The light from heaven penetrated this world quietly and unbeknownst to its inhabitants. Only those who are listening see truth, enter into the kingdom, and choose to stand in it's light.
The prophets have been declaring it ever since. It is refreshing for me to read these words after hearing hypocrites and liars stand for their anti-truth. The fact that this world is so much more wicked today doesn't depress me, it makes me want to listen to our leaders even more. There is hope in their words. May we all Listen then Come and Stand in the place of Gospel Light.
You can read other General Conference Odyssey posts, for this same session, here:
The Word is Mightier than the Sword Nathaniel Givens
The Guiding Light Daniel Ortner
Sincerity, Signs of the Times, and South America John Hancock
The Fullness of the Gospel for the Fullness of Life Ralph Hancock
"God…is at the Helm" Michelle Linford
Love and Lies SilverRain
LDS Conference October 1971 – Cultural, Intellectual, and Spiritual Fads J. Max Wilson
Honesty: A Principle of Salvation Walker Wright