I am very, very grateful that I don't have to become perfect in all things. I was sent down onto this imperfect world, as an imperfect being, to work out my imperfectness imperfectly. Yet, I still manage to beat myself up. Why do I keep going around in circles? Why can't I figure it all out? Why can't I get it right just once?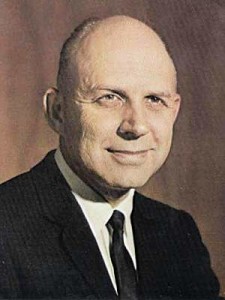 The Brethren have known, and always seem to know, what they are talking about and know just what to say to invite us to Come Unto Jesus Christ. We choose whether to listen, ponder, and act on their words. Elder A. Theodore Tuttle spoke on "The Things That Matter Most" in the Saturday afternoon session of October 1971 General Conference. This talk is one that I need to hear every couple of years to serve as a reminder. Can I do this? Yes, maybe, some day. Keep trying.
Elder Tuttle said, "The world is too much with us," "Our lives are ruled by a schedule and appointments while the Christian acts of kindness wait," and "We must learn, before it is too late."
May I list some of the stupid things I do and observe that I just can't seem to take control over? I have no idea if I'm alone in this, or not, but here goes:
I used to live in a ward that when a volunteer was needed one woman would always raise her hand first, without fail. As I sat listening to the need, I would be thinking, "Do I want to do this, or not," which would delay my reaction. For a long while, I was completely satisfied with volunteering second, never first. I look back on that with a little regret.
During this winter season, I've noticed how women will wear high-heeled fashion boots while walking over ice. Sacrificing to look good, right? Wouldn't it be smarter to just wear ugly, safe, boots? Because I'm a woman, I have been guilty of this same stupid sense of fashion-logic. The other day, I spent a good amount of time getting ready for stake conference. I had a new-ish outfit and my hair needed to be just right. We got their early, shook the hands of the visiting authority and his wife, and sat in the front row. During the meeting, I looked down and saw that I had a huge run in my stockings and I could hardly concentrate on the rest of the meeting.
When my visiting teachers come over, my house has to be perfect. I have to have my perfect smile in place, and I have to make sure I don't share too much about myself lest anyone think ill of me. What follows is roughly one full hour of inane, useless talk, instead of honesty and true sisterhood.
Often, during the Christmas season, I will be so caught up in making sure gifts are purchased, the house is decorated just so, and everyone is having a good time. Sometimes, I miss feeling the spirit completely. The other day, I saw some wind-worn Christmas decorations still hanging outside and thought, "Holy Cow, Christmas lasts for one month of the year. Why in the world do I spend so much time stressing about it when it's over so fast?"
The reason why I bring up all of these slightly mortifying thoughts is because I sometimes have a hard time remembering what matters most.
I'm older, have experienced a lot in life, and have had some really wonderful days in my lifetime. But then I also have many regrets, self-made issues that crop up, and weaknesses that are often out of control. There are a lot of things that I still haven't mastered, and don't understand, but there is one thing that I have learned, that I am absolutely sure about: God doesn't expect me to be perfect, He loves me anyway, and He shows His love through patient reminders like this conference address.
Because I know He loves me—no matter how stupid I am—I can keep my eyes on those things that really do matter most:
Heavenly Father, and all He has generously given me—I will always need to be reminded to be thankful, but as I sincerely thank Him I will always know I can never be thankful enough.
Jesus Christ, His atoning sacrifice, and His gospel—He makes it so I can keep trying. With His help I can actually get better at some things, but if my heart is in the right place, He will make up the difference for those many other things.
The Holy Ghost—The Great Reminder is the one who helps me stay on the path, to actually keep in mind what matters most, and to continue working toward heaven while on this earth.
My family—They teach me humility and all the other qualities I need to practice in order to become more like Jesus Christ. And as they stay with me through my fumblings, I know that I want to be with them for eternity.
Relationships and actions that keep me centered—Reaching out to others creates insecurity in me, forcing me to depend more on God. Being dependent on Him allows me to see the greater good of what is most important.
These things are what matter most, not my perfectness. As long as I don't give up striving, my imperfections will continue serving their divine purpose of keeping me grateful, teachable, focused, humble, and in need of turning to my Savior.
Other General Conference Odyssey posts:
True Fatherhood and True Motherhood Nathaniel Givens
Christ, Conversion, Covenants, Commandments, and Common Sense John Hancock
"The prisoners shall go free" Michelle Linford
"Unto One of the Least of These" Walker Wright
Motherhood and Mechanical Rabbits  SilverRain
LDS Conference October 1971- Sometimes You Have to Redo What You Thought Was Done  J. Max Wilson
Faith Crises, Table-Pounding and Mechanical Rabbits  Ralph Hancock