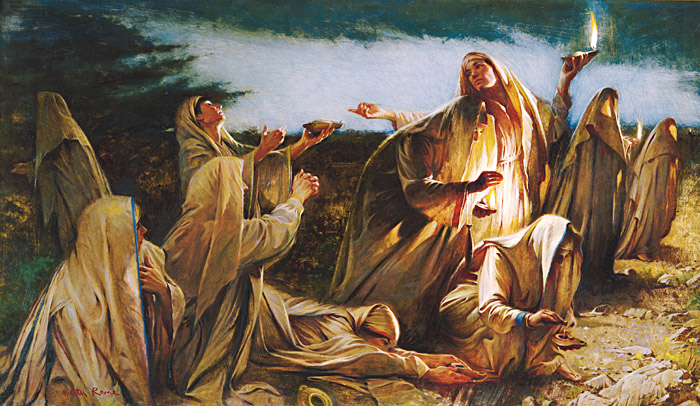 Here is the truth, once again revealed to us. The April 1974 Friday afternoon session of conference has some truly earth-shattering advice and information for us. I continue to be astounded at the prophecies we have been given, and that our day benefits so specifically with those words spoken so long ago.
There is nothing new in our world that Satan hasn't tried to sway people with. The power he holds goes along with the number of people who fall for his tricks. The world is full of gullible, weak, immoral, and apathetic people. Don't be one of them. Stand tall, let your roots sink deep, and wait out the adversary with faith and steadfastness.
I think one of Satan's greatest ploys is to convince us that we are NOT eternal beings; that we need everything to happen here and now; that we are obligated somehow to demand our happiness, mercy, and justice today, not tomorrow.  
But here is the truth.
We are Heavenly Father's children. All He wants for us is in the eternities: immortality, eternal life, worlds without end, glory, everlasting happiness, and so much more.
In these talks we heard truth in the following words:
"I bear witness of the living reality of the Lord Jesus Christ through whom this authority has come. I bear witness that his power, his priesthood, is among us and is exercised in his holy houses. Do not spurn that which he has offered. Live worthy of it and partake of it, and let the sanctifying power of his holy priesthood seal your companionship." (Gordon B. Hinckley)
"True love is not earthbound. … It is the great purpose of mortality. … True love pleads for endless association of those we love … should we expect to find ourselves prepared to dwell in what I sometimes refer to as the 'kingdom of families.'" (ElRay L. Christiansen)
"Adversity and trial have driven the roots of faith and testimony deep in order to tap the reservoir of spiritual strength that comes from such experiences. By nature they know how to stand and fight and hang on." (Loren C. Dunn)
"For, behold, you should not have feared man more than God. Although men set at naught the counsels of God, and despise his words–" (James A. Cullimore)
"[Women] who are confused and wondering about the importance of their call in the Lord's eternal plan … she is co-partner with the Creator himself. He created you to learn to be a good mother–an eternal mother. It is your first and foremost calling … to you mothers who haven't yet caught the vision of your eternal call, may you especially be enlightened by the spirit of truth." (H. Burke Peterson)
"One of the great challenges we face in The Church of Jesus Christ of Latter-day Saints today is that we have too many priesthood holders who are at rest. Because they are, oftentimes their wives and children are not as active in the Church as they could be and should be. I challenge all of you who are in this category to awaken, arise, and advance, so that the blessings of the gospel of Jesus Christ can be experienced in your personal lives and in the lives of your loved ones." (William H. Bennett)
"It can be properly and appropriately concluded that the ten virgins represent the people of the Church of Jesus Christ, and not alone the rank and file of the world. The wise and foolish virgins, all of them, had been invited to the wedding supper; they had knowledge of the importance of the occasion. They were not pagans, heathens, or gentiles, nor were they known as corrupt or lost, but rather they were informed people who had the saving, exalting gospel in their possession, but had not made it the center of their lives. They knew the way; but were foolishly unprepared." (Marvin J. Ashton)
It behooves all of us to wake up to our situation. Marvin J. Ashton used strong words to remind us, "Brothers and sisters, we are living in a time of urgency. We are living in a time of spiritual crisis. We are living in a time close to midnight." May our lamps be filling every day, drop by drop, as we speak up for righteousness sake, serve one another, and exercise our right to act in defense of truth and faith. Our patience will be rewarded as we step into the eternal realm of Heavenly Father's kingdom where Satan can no longer entice us into accepting less than what our Savior freely offers us.
Other General Conference Odyssey posts:
Scattered Pearls Nathaniel Givens
Momentum G
An art developed through practice Marilyn Nielson