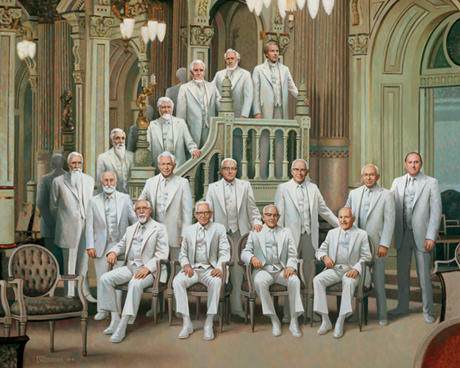 How do we hold on to The Standard of Truth? By participating fully in a Solemn Assembly.
Our day is full of progressive thoughts that catch the average family off balance. Compromise, modification, and acceptance are forcing us to judge, or not judge, a given situation that expressly touches and influences our lives and our families. I think anyone, member or not, would agree that the world is spiraling downward. We all are aware that life, in general, is not safe. Where the average person is living in a riptide culture, Latter-day Saints have a prophet, who points at The Standard of Truth we need to uphold.
Recently, The First Presidency has released letters urging members to vote conscientiously on very controversial issues that can affect our society in dangerous ways. These reminders and guidelines are the reason we have a prophet, so he can guide us in these perilous times and help us stay close to The Standard of Truth. Where there are those who would try to convince us there is no standard, as long as we have a prophet we know the standard still stands. The standard lies in the doctrine, same old or newly revealed, imparted by our prophet. Elder Mark E. Petersen, back in April 1974, said, "When [the Lord] wishes to reveal new items of doctrine to [his people], or administer chastisement, he will do it through the man whom he has appointed to that office and calling."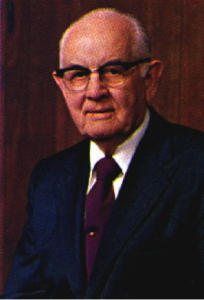 The Solemn Assembly of April 1974 showed that membership was unanimous in their vote to sustain the prophet, his presidency, and the apostles. This, sadly, is no longer the case. Though our membership is still strong, there are dissenters who think they can stand against the prophet. What they seem to have forgotten is that they are really standing against Heavenly Father and Jesus Christ, as well as revealed eternal truths. President Spencer W. Kimball quoted Joseph Smith, who said that "the house which rejects them [the prophets] shall be left desolate."
After King Benjamin's speech, on the tower, the people unanimously believed all his words. They cried out in joy and were filled with the spirit. They declared, "We are willing to enter into a covenant with our God to do his will, and to be obedient to his commandments in all things" (Mosiah 5:5). This feeling of unified communion, in following the prophet, brought strength and power to this people.
In contrast, when the sons of Mosiah traveled to Jerusalem, on the American continent, they were greeted by the Amalekites and Amulonites–former Nephites who had rebelled and joined the Lamanites. Aaron and his brothers were thrown into prison, tortured, and starved because these dissenters had a moment of power. It didn't last long though. The Lord was, is, and will always be on His servants' side (Alma 21).
For us as followers, what does it really mean when we say "Amen?" According to The Encyclopedia of Mormonism, the word means "truly" in Hebrew. It also explains that "in antiquity the expression carried the weight of an oath." In modern day, we say it as a salute to our "president or teacher," as a salutation and prayer of our support and supplication; that the house of the Lord, or school of the prophets "may become a sanctuary, a tabernacle of the Holy Spirit to your edification" (D&C 88:137).
Saying Amen is not a casual declaration. Neither is our raising-our-hand-to-the-square. It is a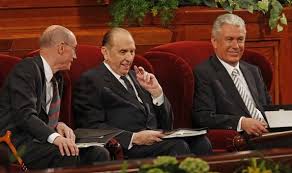 privilege to show our allegiance, our commitment, and our love toward the prophet, the First Presidency, and the Quorum of The Twelve Apostles.
In order to stay balanced in this polarizing world that has forgotten The Standard of Truth, I testify that it is necessary to sustain our prophets more than ever before.
Other General Conference Odyssey posts:
The Paths We Walk Nathaniel Givens
Solemn Assemblies and the Communion of the Saints G
Meeting Jesus and Being Transformed Daniel Ortner
To arrive where we started, and know the place for the first time Marilyn Nielson