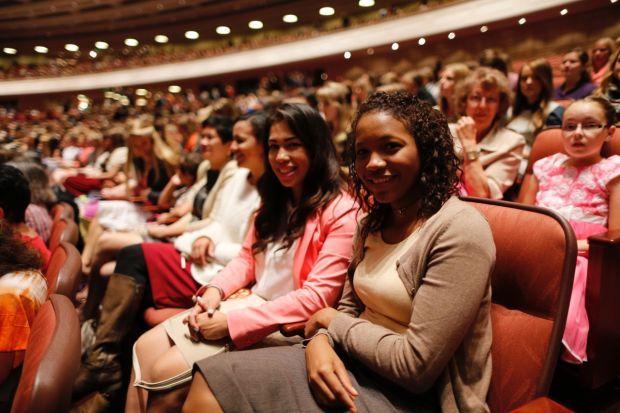 Face it, we all like to see that others are imperfect. Yeah, we all do it! Somehow, it makes us all accept our humanness and puts us all on the same playing field. Listening to the new Relief Society Presidency (speaking at the BYU Women's Conference), I can see just how human–and like me–they
are. Our humanness connects us. This is a great reason to be happy.
1. WE HAVE UNIQUE EXPERIENCES THAT SOMEHOW CONNECT US ALL
When Sis. Aburto said she was divorced, at the women's conference, I instantly thought of the bond she had just made with every other divorced sister out there. Her simple statement (that speaks volumes of emotion) created an instant bond. Sis. Eubank has never married and Sis. Bingham describes herself as very average. All of us have something worth bonding over. And we simply tend to bond over the craziest things, but that's what makes us unique, and capable of being happy. We may not think our life is special in any way, we may even think too many bad things, or mistakes, have ruined our lives. But guess what! It's not true!! Satan may try to make you think that way, but you will always be lovable. Say it with me–I AM LOVABLE!!!! You smiled when you said that, didn't you? Happiness (sigh).
2. HAPPILY, WE GO FORTH TO BUILD AND LIFT OTHERS
If we are focused on serving others in every way imaginable, the focus is taken off of ourselves. There is a lot of negativity in the world today and it generates mostly because of Satan, but also because we are becoming more and more self-centered, self-protective, and even self-righteous. Let's cut that all out of our lives and serve one another by building one another up, and lifting others. This will make even the air around us happy.
The other day, I passed a young mother walking down the sidewalk with five children. She hadn't even begun her expedition and she looked tired. I passed her remembering those days in my own life. My husband turned to me and said, "You did that with even more children!" I FELT this woman deeply. I was several yards away when I turned around, ran back to her, and said, "You are awesome!" I hope that comment stayed with her the rest of the day. It did me. She isn't alone. None of us are. We can't be afraid to reach out. And you know what? I almost didn't do it. I am so glad I did!
3. WE MAY STUMBLE AROUND BUT WE ALWAYS HAVE HEAVENLY FATHER'S HELP
While we are certainly imperfect in this imperfect world, as members of Jesus Christ's church we can find happiness because we know we can go to our Heavenly Father for extra help whenever we need it. How wonderful to know that we can pray for one another, we can call down angels to assist us, we can feel heavenly arms around us when needed, and we can pour our hearts out and be healed. This good news
brings great happiness.
4. ALL OF US CAN OVERCOME, PERSEVERE, AND SUCCEED. ALL OF US CAN!
Do we believe this? We must! Even though Satan is doing his darnedest to sabotage God's plan, he can't do it! He won't do it to me! I will not wait till the war is over to be happy. We can be in the business of sabotaging Satan's plan by being happy now. Let's stop complaining, finding fault, judging resentfully, and moping about. Instead, let's lift up our heads, lift the corners of our mouths, lift our neighbors, and share and shout out our happiness.
Sis. Kimball was the one who read, over the pulpit, these now famous words:
"Finally, my dear sisters, may I suggest to you something that has not been said before or at least in quite this way. Much of the major growth that is coming to the Church in the last days will come because many of the good women of the world (in whom there is often such

an inner sense of spirituality) will be drawn to the Church in large numbers. This will happen to the degree that the women of the Church reflect righteousness and articulateness in their lives and to the degree that the

women of the Church are seen as distinct and different—in happy ways—from the women of the world."
In this world of turmoil and misery, we were foreseen as women, distinct and different in happy ways. If God meant us to be truly happy, then we can be happy now.